I haven't gotten into running blogs. Honestly, from what
Megan
- who writes the only healthy living blog I read, and that's because she was my friend in real life before either of us blogged and she is just as happy to eat pancakes with me as to go on a run with me - says about running blogs, it might be safer for my sanity if I stay away.
However, I am absolutely not ashamed to admit that
Amanda's running posts
are my favorite part of
The Lady Okie
, and I'm also proud to admit that it was through one of those posts that I found out about
Sunshine to the Square Inch
. Beka's actually a repat, too, having lived in South Korea for a year, so we have a lot in common! That's why I'm delighted to be sponsoring and co-hosting
Amanda and Beka's monthly running link-up
today - I hope you'll join us with your own post! Plus, you can enter below to win a $30 gift card to
Lululemon
to match this month's theme:
favorite running products/gear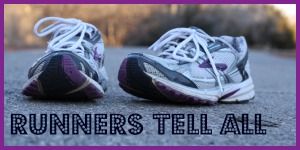 Whenever people tell me they want to start running but that they don't know how or they tried before and couldn't stick with it or that they have physical issues that make them nervous to run, my first piece of advice is this:
Go to a store that focuses on running, get your gait analyzed, and ask the staff which shoes will be best for you based on your body and how it moves. Everyone has their own physical quirks, and how all those quirks - your weight, which part of your foot hits the ground first when you step, whether you over- or underpronate, and more - combine to require certain things from a running shoe if you want to be a happy and healthy runner. Yes, good shoes aren't cheap and you should replace them with a new pair every 300-500 miles, but they are so worth it!
That's why my favorite running gear is my shoes. I probably wouldn't still be running if I hadn't made getting the right shoes a priority from day one! Right now, I'm working on a pair of Brooks and I wore Saucony before that.
Through some trial and error, I've found a few other products that help me run and recover:
Most energy drinks are too sweet for me, but I love
Nuun tablets
to help me rehydrate - the strawberry lemonade flavor is my favorite!
Honey Stinger energy chews
power me through long runs - I discovered them at a local running store after almost giving up on gummies and gels and bars because I was grossed out by the texture of options from Gu and Clif, the two most popular brands.
It turns out I like holding my waterbottle in my hand, even if I don't have Charlie's leash in my other hand to balance me out, and I don't like putting anything substantial in the pockets of my tops or crops, so I found
a great double-pouch belt
that will carry everything else I need for a long run but that doesn't waste space with waterbottle holsters.
Unfortunately, I'm having some knee pain (again) and so another current favorite product is
Rock Tape
. Fingers crossed this helps me sort out my patella tracking issues and I won't have any problems on my 10 mile race on April 13!
a Rafflecopter giveaway
Runners Tell All Linkup Rules
1. You must leave a comment on the person's blog who linked up directly before you. This is not a linkup for the sake of linking up. This is a linkup to build community and spread the love and encouragement to your fellow runners! Don't be lame.
2. Only link up posts related to our running prompt. Do not share links to unrelated running posts or to your blog's homepage, or we will have to delete your link. (Amanda has done it before too, so she's not joking.)
3. Please link back to either Beka or Amanda in your post so others can come here and join in! Or grab the button above - the code is on their blogs - and add it to your post.