That's right, dear readers; today is our one year anniversary with Charlie! In mid-June, soon after I moved back to DC from London, my parents and I started the process to adopt a labrador through
Lab Rescue of the LRCP
, and a few weeks later we brought Charlie home from an adoption day after having combed through the available labs on the website and chatting with his foster mom on the phone. (Hi, Katie!) I can't believe that it's been a whole year since
I introduced him to you in this video
- do you remember?
It's funny - there are at least 30 labs available for adoption at any one time through Lab Rescue, but there's no way we could have gotten anyone other than Charlie. I don't usually believe in soul mates, but we were meant to be, you know?
I wrote him a love letter
on the blog six months ago, so you can read that if you want more sappiness, but I think you know how we feel about him!
In honor of Charlie's Gotcha Day and with great appreciation for all that Lab Rescue does, I volunteered to foster a lab for a few days at the end of this past week. Happy Jack was a delight to have, the chaos of our first night together notwithstanding, and
he and Charlie became the greatest of pals quickly
. He was adopted by a lovely family after only ten minutes at the Lab Rescue event yesterday - not surprising because he's a total sweetheart, but I cried anyway.
Charlie seemed a little bereft when I came back home without Jack Jack, so to distract him we went to
the dog beach at Downs Park
. We had the best time! He's paddled around in Rock Creek and a local lake over the past year, but he always made sure his feet remained firmly on the ground. He'd never actually swum before, but once I threw a tennis ball out into the open water he took to it like a... well,
like a lab should, honestly
! We stayed at the beach for an hour, playing in the sand and swimming in the sun-glinted waters of the Chesapeake Bay. It was glorious!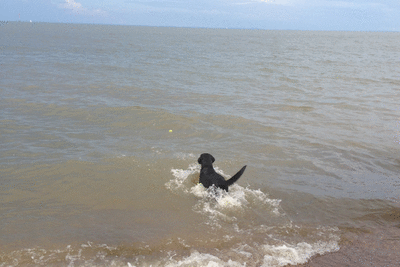 Charlie and I are going to head to the Dupont Circle farmers' market this morning for breakfast and to make some friends. Let us know if you're around so we can say hello! If we don't see you today, join us in celebrating Charlie's Gotcha Day by giving a dog some love. It's the best way to feel love yourself!