I was never one of those girls who practiced her handwriting in school. Many of my friends did - I can't think of Annie O. without remembering how she rounded her letters in sixth grade - and I wanted my handwriting to look prettier and neater, but the escape of writing overwhelmed the patience needed to hold back the rush of words from my pencil. I always seemed to have too much to say too quickly, and being careful about how I wrote it down was stifling.
Somehow, though, my penmanship didn't suffer, and by the end of high school, when I realized that I'm a visual learner, I came to appreciate how taking my time over my writing could help me understand and retain information. In college, I'd rewrite my notes to study for tests; now that I'm working, I always list my priorities for the day/week with pen and paper to make sure I really take in everything I have to do at the office.
That being said, I have to admit that, unless you need excellent handwriting for professional reasons, I don't really see the point in endlessly practicing penmanship. We should certainly take pride in how we write, but the idea that your handwriting is an extension of your personal brand makes me a little uncomfortable. I don't know - maybe that's naïve. And, when I read about
Joelle's link-up
, I did get excited, so maybe it's also hypocritical! I definitely had fun with this project, even though I have no idea what I'm going to do with all the washi tape I bought especially for today's post. (Hey,
Pinterest
, got any ideas?) So this is what we've got here: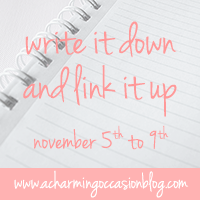 Not sure why it looks like I wrote each piece on different paper and in different light, because that's not the case, but you get the idea! Sorry, you're not allowed to see my signature - you know, because I work so hard to maintain an aura of mystery around here. I will tell you that I had a lot of fun practicing my new signature last night, but alas; Jon values his privacy way more than I do mine, so his surname will remain a secret for now, too. And the Jean Cocteau quote isn't my favorite ever, but I love the idea of "unraveling handwriting" as a metaphor for what we write. It's beautiful, isn't it?
Let me know if you've
linked up with Joelle!
Can't wait to see what everyone else has come up with. Now, into November. Happy Monday, dear readers!