Phew - what a corker of a post that was yesterday! I hope I answered all (or at least some) of your questions about the
visa options available
to you if you want to move to the UK to work. Also, many thanks to the amazing commenters who have joined the discussion! Please do keep adding your advice and experiences.
So you've decided that you want to move to London - or you're already here - and you want to find a job. Where do you start looking?
If you are currently (or were recently) a student in the UK, your first port of call should be your university's career services department. The
UCL careers service
, for instance, provides advice and guidance for your job search as well as a list of vacant positions that range from social media to finance.
If you're a bit more established in your field, I'd suggest you start off by contacting a recruiting firm. A recruiter can be especially helpful if you don't have a visa and hope to be sponsored by a new employer because s/he can point you in the direction of companies that are willing to go that extra mile. If you already have a work permit but do not have work experience in the UK, a recruiter will be able to tell you about trends in your industry in the UK (which may differ from what you're used to in your homeland) as well as match you with relevant vacancies. A quick Google search will lead you to the names of tons of recruiting firms; you can narrow down your options by speciality or interest.
If you are legally allowed to work and have been (or are) employed in the UK, your best best for finding a new job - especially if you want your employer to sponsor you - is through a personal or professional association. Talk to all of your colleagues in your field, attend collegial lunches and cocktails and coffees, and network your socks off. If you can get a recommendation from someone you know who is connected with the company you're applying to, the organization will probably be more willing to take the risk of sponsoring you.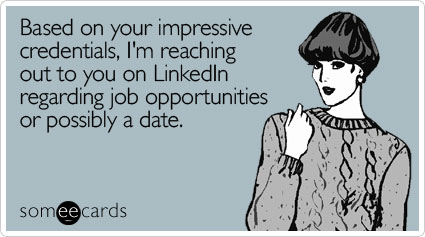 Speaking of networking, you should definitely sign up to
LinkedIn
. If you don't know about this website, let me tell you: it's social networking for professionals. Make sure your profile is completely filled out (
this
can help if you don't know where to start) and describe yourself and your professional experience the way your grandmother would which means that you should, in short, brag. The key here is to make as many connections as you can as long as they are relevant to your career; don't connect to your college roommate who lent you her fake ID in freshman year but do connect to the former colleague who worked on that one project with you in 2008. Prospective employers check LinkedIn and will judge you on both the quality of your profile and your connections, so make sure that everything you communicate is appropriate for a potential boss to see.
Also, as in the States, newspapers, both online and in hard copy, always have an extensive list of open positions that you can focus with almost any parameter.
Guardian Jobs
, my favorite site, allows you to search by industry, function, level, location, salary, contract, and hours. To give you an idea of what you might find, let's imagine I'm on the hunt. I will look for a job in the arts, in the greater London area, with a minimum salary of £25k and on a full-time and permanent contract - and it gives me 66 possibilities, eight of which might be worth a closer glance.
Finally, have a look at websites that focus specifically on your interests. Again, go to Google, and enter "UK jobs _____." For instance, the top three links for "UK jobs arts" are
artsjobs.org.uk
,
artshub.co.uk
, and the
Guardian
, all of which I know from experience to be reliable sources for vacancies. (Martha, the best place for teaching jobs is
TES
- go to town!)
The only other thing I would say about looking for work in the UK is this: slow and steady wins the race. Job-hunting can be a full-time job in and of itself, and when you add moving to a new country and tackling visa issues to the pressures of finding gainful employment, it pays to be thorough and methodical. Because there's so much involved in looking for a new job in a new country, you'll waste less time in the long run if you carefully research all of your options.
Now go forth - and good luck!